Famous people with spina bifida – here are the details:
Spina bifida is a congenital condition where the bones in the vertebral column do not fully cover the spinal cord.
It can occur anywhere along the spine.
This can cause mental and physical issues.
Approximately 167,000 people with spina bifida live in the US.
It is the most common neural tube defect in the US, affecting around 2,000 babies every year.
Types
The types of spina bifida include the following:
Spina bifida occulta
It may go unnoticed until later in life and it does not cause any disabilities. Symptoms include:
an area of extra fat on the back;
a gap in between vertebrae;
a small group of hair on the back;
small birthmark on the back;
no fluid-filled sack outside the body;
no visible opening outside.
Meningocele
It is a moderate form of spina bifida in which a fluid-filled sac occurs outside of the back area. But, the sack does not contain any part of the spinal cord. Symptoms include:
normal development of the spinal cord;
membranes pushing out through the opening in the vertebrae into the sack;
sack which is visible at birth;
small opening in the back.
Myelomeningocele
It is the most severe form of spina bifida. Symptoms include:
issues with the bladder and bowel;
scoliosis;
hips which are not even;
paralyzed or weak leg muscles;
deformed feet;
seizures;
spinal cord pushed outside the back in an exposed or skin-covered sack;
open spinal canal over some vertebrae, commonly in the lower or middle part of the back.
Causes
Both genetic factors and environmental factors, like exposure to harmful substances and nutrition, probably contribute to this congenital condition. However, the most important known risk of spina bifida is the mother having a lack of folate (also known as vitamin B9) before and at the very start of pregnancy.
Diagnosis
Most cases are detected by an ultrasound scan during pregnancy. However, some mild cases may go unnoticed until after birth.
Treatment
Treatment depends on a few factors, mainly how severe the symptoms and signs are. Treatment after birth may include:
behavioral and physical therapy;
medications;
surgery.
Here Is A List Of 11 Famous People With Spina Bifida:
#1 Jim LeBrecht
He is a sound designer for films who in 1996 started his own company, Berkeley Sound Artists, and works mostly on documentaries. He was also a member of Disabled in Action in the early 1970s and a long-time activist for independent living and disability rights.
Due to the fact that he was born with spina bifida, his legs are asymmetrical, undersized, and curved to the left. In addition, his right leg twists and tucks beneath his left leg.
#2 Blaine Harrison
He is an English songwriter and musician who is best known as the lead vocalist of the indie rock band Mystery Jets. In 2008, NME Magazine included him on its annual Cool List.
Blaine Harrison was born with spina bifida, which has affected his leg muscles since he was a child.
#3 Frida Kahlo
She was a Mexican painter, born in Coyoacán, and perhaps best known for her self-portraits.
Frida is an example of an artist whose entire life was strongly influenced by chronic, severe illness.
Over the course of her lifetime, she would endure multiple hospitalizations, over 30 surgeries, and countless months of bed rest.
Frida Kahlo managed the constant pain with copious amounts of pills and brandy.
#4 Van Smith
He is a theatrical make-up artist who designed the pink satin ball gown adorned with huge cockroaches worn by Ricki Lake in "Hairspray."
Unfortunately, Van Smith could not accomplish his first artistic goals due to stiffness caused by spina bifida.
#5 Rene Kirby
He is an actor who starred in Stuck on You (2003), Shallow Hal (2001), and Carnivàle (2003).
However, Rene Kirby is best known for his performance in the Farrelly Brothers' film Shallow Hal. In this film, Rene Kirby plays the role of Walt, a man who, like Rene Kirby himself, was born with spina bifida.
#6 Tanni Grey-Thompson
She is a British television presenter, politician, and former wheelchair racer.
In 1991, Tanni graduated from Loughborough University with a BA degree in Politics and Social Administration. She is also one of the most successful disabled athletes in the United Kingdom.
Tanni Grey-Thompson was born with spina bifida.
#7 Robert Hensel
He is a Guinness World Records holder for the longest non-stop wheelie in a wheelchair, covering a total distance of 6.178 miles.
As part of setting his record, Robert Hensel raised money for wheelchair ramps throughout Oswego, New York.
Robert Hensel was also born with spina bifida.
#8 John Mellencamp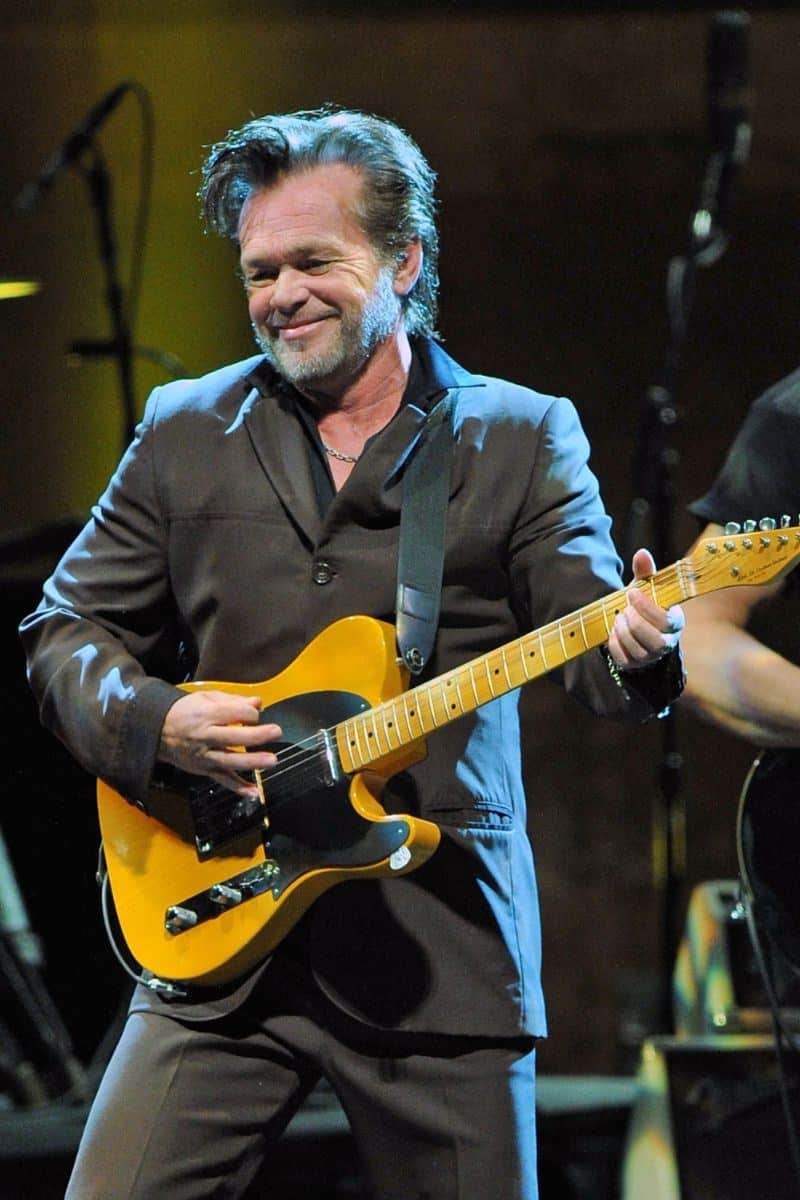 He is an American singer-songwriter, musician, actor, and painter who is known for his populist brand of heartland rock, which emphasizes traditional instrumentation.
His first album, Chestnut Street Incident, was released by MCA in 1976, however, it failed to sell many copies. But, Mellencamp's fortunes eventually improved, and, in 1978, his single "I Need a Lover" became a hit.
At birth, John Mellencamp was found to have spina bifida and a corrective operation was a success.
READ MORE: Celebrities With Bunions On Their Feet
#9 Bruce Payne
He is an English producer, actor, and assistant director who is best known for portraying villains, like:
Damodar in Dungeons & Dragons and Dungeons & Dragons 2: Wrath of the Dragon God;
Jacob Kell in Highlander: Endgame;
Charles Rane in Passenger 57.
At the age of 14, Bruce Payne was diagnosed with a slight form of spina bifida.
READ MORE: Celebrities With Lazy Eye
#10 Jean Driscoll
She is an American wheelchair racer who won the women's wheelchair division of the Boston Marathon 8 times. She also participated in 4 Summer Paralympic Games, winning a total of 3 silver, 5 gold, and 4 bronze medals.
Jean Driscoll was born with spina bifida, which affected her ability to walk and included other neurological complications as well.
READ MORE: Famous People With Sjogren's Syndrome
#11 Hank Williams
He was an American singer-songwriter who is regarded as one of the most influential American songwriters and singers of the 20th century. He recorded 35 singles which reached the Top 10 of the Billboard Country & Western Best Sellers chart.
According to some sources, Hank Williams was diagnosed with spina bifida, and an operation in 1951 aimed at relieving his constant pain was not successful.
READ THIS NEXT: Famous People With Muscular Dystrophy
References

https://www.ncbi.nlm.nih.gov/pmc/articles/PMC495635/
https://www.nichd.nih.gov/health/topics/spinabifida/clinicaltrials/default
https://fetus.ucsf.edu/research/spina-bifida-moms-trial